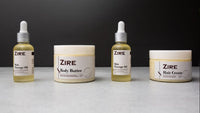 Our Story
Zire hair and skin care products are handmade with 100% natural ingredients and no chemical products.
Our mission is to make everyone fall in love with their hair and skin.
Our products range from skin care treatments to hair growth stimulating cream.
Buy Body Butter
What our customers say
Thank you so much for your prompt delivery. Excited to use it also :-) well done the butter is really soft and I can't wait to try out on my hair 🙏

Lexie
I'm so happy i got my body butter. It has a lovely, light texture and goes on well-a little bit truly goes a long way! The difference in my skin is amazing! It feels moisturised without being oily and shiny and the texture has really evened out. The first few days I had a few spots but they cleared quickly and now I have simply great skin. It seems to glow but not shine (if you know, you know!) Can't recommend it enough!

Helen
Zire Skin Therapy oil has been God sent to my skin. Ever since I started using this oil, my skin is completely glowing; all the dark spot under my eyes has been cleared within a week of using it. I will highly recommend this product to anyone having issue with their skin. It was dispatched on time and it arrived early.

Tobi
This is perfect for my and my son's dry skin. Great product and perfect consistency for my face and the smell is nice and subtle.

Rolande
I have been looking for a dry skin lotion for men and have used many from high street stores but all only seem to last for a couple of hours. The body butter works perfectly for my skin and I don't need to reapply it throughout the day.

Dave
These creams are just amazing! They have done wonders for my skin. After having my second child my skin had changed and was so dry and rough. I use the amethyst cream before bed, when I wake up my skin feels like silk. The smell is so calming too, perfect for relaxing right before bed.

Denise
I have been using the skin therapy oil for 3 weeks now and i love the way my skin looks. I initially thought it will be oily because of the blends of oils but i couldn't be more wrong. It helped with the dark circles under my eye and evened my skin tone. I will definately be coming back for more.

Edyta
I have black african hair and one thing I struggle with is dry hair - this was made worse during the coronavirus lockdown. When I moisturise my hair, most moisturisers typically sit on the surface of my hair resulting in an oily 'crispy' like texture. From the first time I applied zire hair cream, my hair felt SO SOFT, it really took me by surprise because it hasn't felt this soft in a long time! Zire hair cream actually penetrates and softens my hair, and doesn't feel at all greasy. I'm absolutely in love with this hair cream and the way it makes my hair feel.
I also like the smell, subtle and not overpowering.
The best thing is that it's all natural and I don't need to worry about chemicals and parabens etc. I cannot recommend this hair enough, and I no longer use multiple products in my hair

Susan
FAQ's
How long does it take to receive my order?
All products are made to order in batches. Due to the covid 19 pandemic, there can sometimes be a delay. All orders are sent via Royal Mail and a tracking number will be sent to you. If you do not receive your order by 7 working days then send an email to zirehairandskincare@gmail.com.

How long does it take for the creams to work?


It's important to remember that everyone's skin is different. Some people will notice an improvement immediately. But usually we would say it takes up to 6 weeks to notice a few improvements.
Generally speaking, it takes about 28 days for skin cells to turn over, which means that almost all products require at least one month of use before you'll see results.
Why am I breaking out?
Purging is when your skin is adjusting to the new product. Persevering with the product will help your skin to adjust and heal. The sudden crop of pimples actually means that it's working as intended. As your skin is purging toxins, it's important to remember to stick with it. This process can take 6-8 weeks.
What is the shelf life on all the products?
All of our products are preservative free. To keep at their best, we recommend storing them at room temperature. Once opened, use it within 12 months. Unopened the best before is 30 months.
I have oily skin; can I use these creams?
Our products work fantastically on all skin types. Oil dissolves oil so they help to balance your skin.
Are your products safe to use on children?
Our products are gentle enough to use even on new-born babies. They are made with 100% natural ingredients and chemical free.